One Night Ultimate Werewolf Board Game
One Night Ultimate Werewolf is a fast-paced game where everyone gets to be a different role.
Each player gets a unique role a werewolf, seer, troublemaker or another, all with special abilities.
After a secret night phase that includes changing roles, players have just 5 minutes to find a werewolf.
May be combined with one night ultimate werewolf daybreak and one night ultimate vampire for epic battles.
Suitable for 3-10 players, aged 8 years and up
Estimated Delivery:Oct 07 - Oct 11

Free Shipping & Returns: On all orders over Rs 300
Regular price
Rs. 2,699.00
Sale price
Rs. 2,699.00
Regular price
Rs. 2,899.00
Tax included.
Guarantee safe & secure checkout
29 people are viewing this right now
One Night Ultimate Werewolf Board Game
One Night Ultimate Werewolf Board Game
Werewolf
Ferocious and Furry, the werewolves have a lot of info at the start of the game—they know exactly who is on their team. All they have to do to win is make sure no one else figures that out, so they need to mislead the other players. ..very carefully.

Minion
The Minion is on the Werewolf team, but he isn't a werewolf. He knows who the werewolves are, and is trying his hardest to misdirect the rest of the players into thinking other players are the werewolves, even himself!

Tanner
The Tanner isn't on the werewolf or the village team; instead, he wants the players to think he's a werewolf, because if they vote for him, he wins, and everyone else loses! So he really has to act suspicious. ..but not 'too' suspicious.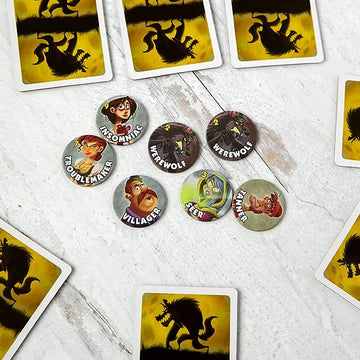 Seer - The Seer gets to view another player's card, so she'll know the true identity of another player. That is, as long as that card doesn't get switched. And since anyone can claim to be the Seer (or any other role), will anyone believe her?

Troublemaker - The Troublemaker has the ability to swap cards between two other players…even changing a villager into a werewolf (and vice-versa). She might bluff and say she switched cards between players in order to get the truth out. ..or she might tell the truth.

Robber - The Robber steals a card from another player, and then becomes that role. That's all good. ..unless he steals a werewolf card, turning himself into a furry bad guy while changing the other player into a regular villager!
Shipping Policy
14 - Free Return Policy
Shipping cost is based on weight. Just add products to your cart and use the Shipping Calculator to see the shipping price.
We want you to be 100% satisfied with your purchase. Items can be returned or exchanged within 30 days of delivery.